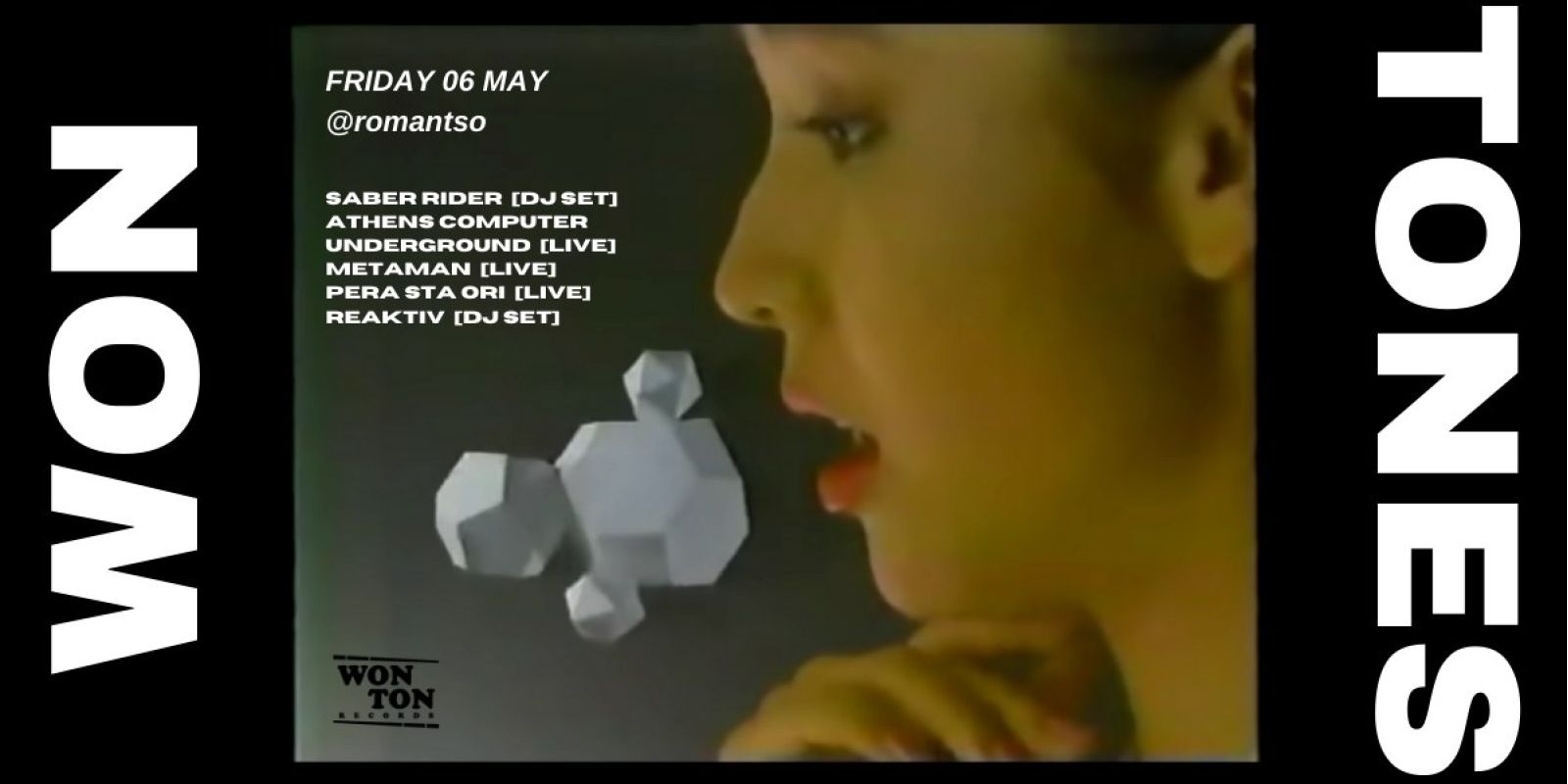 06/05/2022: WonTones at Romantso
Won Ton presents a night of live electronics , synths, computers and turntables by producers and djs who share a somewhat common influence by the atmospheric, retro -futuristic sound of breaks, leftfield techno and braindance heritage.
Athens Computer Underground is the project of Pantelis Theodoridis, also known from Regressverbot. In this project Theodoridis uses a "hardware only" equipment to present lo-fi, idiosyncratic compositions influenced by the fundamental principles of d'n'b, acid house and electro.
Pera Sta Ori/ ΠΕΡΑ ΣΤΑ ΟΡΗ is a project of Giorgos Kontogiannidis from Edessa, Greece. His music is a blend of DnB, leftfield-bass, breakbeats, IDM and Sheffield-bleeps. The compilation: Fragments on Numb Capsule and a bit later, his EP 'ΙΣΚΙΟΣ' on London based Yellow Machines, were only the beginning and received very good reviews from Hyponik, DJ Mag and more. His next project was a remix on Brainwaltzera's 'Dropp On Gminor' for Touched Music. So far, 2020-22 have been very creative years with sold-out vinyl editions, compilations and remix albums. His tracks regularly appear on NTS, LYL Radio, 1BTN, KEXP, Rinse France & more. He has monthly residency on 1020 Radio, Bristol. More of his music was released on Brokntoys, Furthur Electronix, Musar, Mindcolormusic & more. Pera Sta Ori has joined events of the electronic and dance community alongside μ-ziq, Pita, Ziur, Rian Treanor, Mark Fell and Daedelus.
Saber Rider is a greedy and attention deficit composer, producer and performer who writes for dance and visual media, focusing on plunderphonics, synthesizers and pedals but also appears as a ballet piano accompanist, a post production engineer, a radio host, a teacher, music supervisor and other things. Her Dj sets are an amalgamation of UK beats, percussive house and techno, footwork and whatever else makes sense on the spot.
Reaktiv is an Athenian DJ and producer with a keen interest in sound design for theatrical shows and films. Moving flexibly through techno, industrial, filthy, electro, melty waves, and cinematic soundscapes.